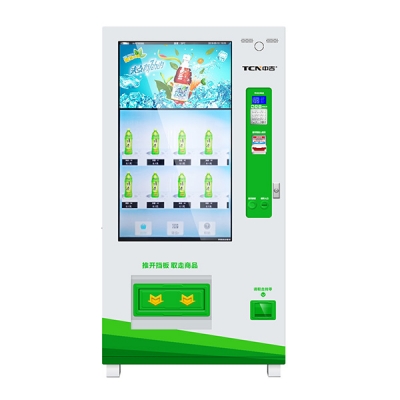 TCN-D720-8C (50SP)
Technical Specification
| | |
| --- | --- |
| Model | TCN-D720-8C |
| Outside Dimensions | 1933mm X 965mm X 871mm |
| Weight | 340kg |
| Kinds of Selling | 36-48 |
| Storage Capacity | About 240~600pcs(according to size of goods) |
| Cooling Function | Compressor refrigeration,4-12°C(adjustable) |
| Rated Voltage | 100V/240V,60Hz/50Hz |
| Payment System | Bill, Coin, Coin Dispenser(MDB Protocol) |
| Power | 375W |
| Container quantity | 12pcs/20ft, 26 pcs/40ft |
Standard helix configuration (various configurations available)
ITEMS

QUANTITY

Chips

7

7

7

Chips

7

7

7

Chocolate

15

15

15

15

15

15

Bottles

5

5

5

5

5

5

Cans

5

5

5

5

5

5

Cans

5

5

5

5

5

5
PS: This is the capacity of single cabinet, the capacity of double cabinets is twice of single cabinet.

Material
Cold-rolled plates, Spray
Dedicated freighter channel ,vending dedicated spiral
Industrial-grade chip control board
Double heated glass for reduced condensation

Main feature
Black and white available
Stainless steel keyboard
Plug-touch connections
Modular integrated design
One-click replenishment
Flexibility to transform the selections
Big inventory space for convenient items supplement
Sales of goods: Bottles with beverage, candy, puffed food, chocolate and so on

Optional
Refrigeration and heating system
Remote control by GPRS, management software
Bill acceptor and coin mechanism configured at factory
Card reader payment device
Customized language display for specific country
IC/ID Card management customers conveniently

Main function:
Standard 32 inches advertisement display screen, and can play kinds of videos and pictures
With commodity windows display, and single button select goods.
Adopt international MDB standard design, accord with international DEX standard, and can accept kinds of international general standard design.
Accept currency, coin, and change function.
Vend a variety of snack foods and frozen cans, bottled, box-packed ,etc beverage.
Microcomputer control system possess intelligent date enquiry, statistics, account, self-diagnosis of breakdown etc. management function.
The size of the commodity channel can be changed, which can be flexible for the each commodities and medicines.
Be convenient for maintain to use modularity Refrigeration system.
Refrigeration system using R134a cfc-free refrigerants, in line with international green environmental protection requirements;
The standard grating shipment inspection system
The temperature can be shown with the data and it can be adjusted by yourself.
Power-failure protection
Dimensions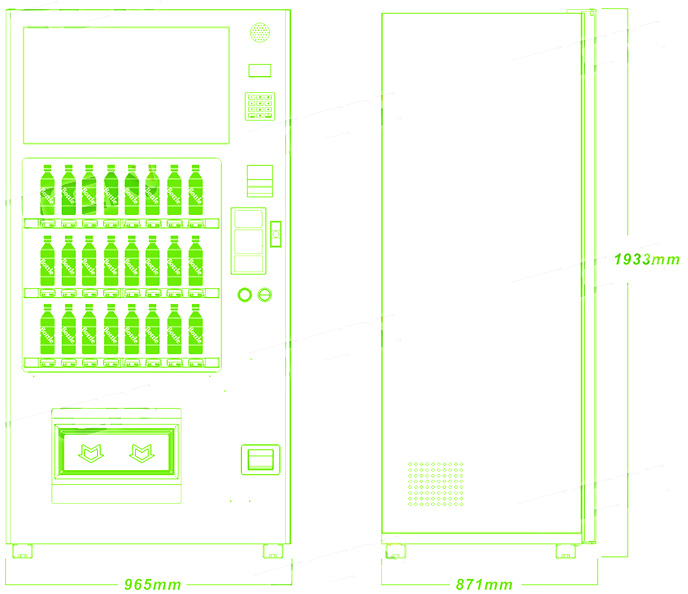 Flexible Configuration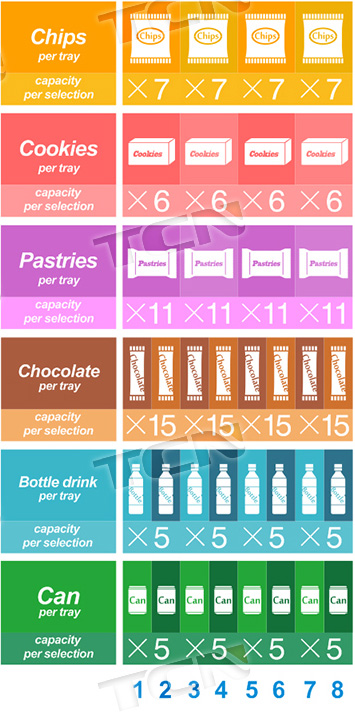 Setting spiral coils & goods trays up to your products
Payment System
Support MDB, DEX, RS232,
IC card, ID card, Bank card, Credit card,
QR code, Bank Note, Mobile pay system, NFC card

Suitability
Cafes, Canteens, Hospitals, Hotels, Schools,
Subway, Supermarket, Malls, Meeting roms,
Stores, Professional studios, Waiting rooms, etc.